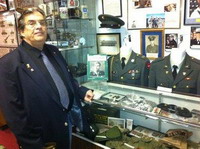 Joyce-Herbert
V.F.W. Post 226
Commander Glen J. Flora
stands before an exhibit
in the post's museum.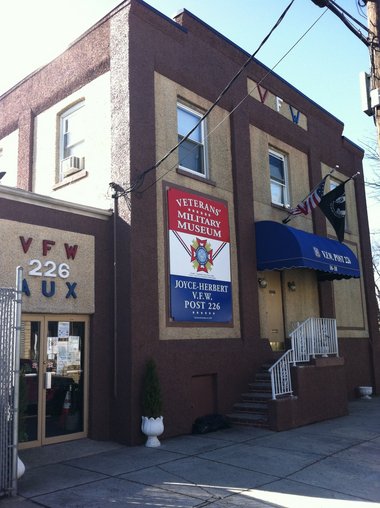 Bayonne VFW POST 226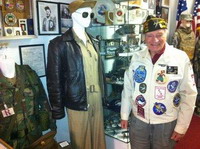 Herman Shanker, 97,
served as a bomber pilot
during World War II,
stands beside his the uniform
he wore during his service,
and a black-and-white picture
of himself at the time.
Bayonne officials at the
Joyce-Herbert VFW Post 224
Museum have again put out
a call for artifacts of
Bayonne military history,
including photographs, uniforms,
flags, medals, and even mannequins.

The museum, located within
the nearly 100 year-old post,
includes thousands of artifacts,
pictures, and uniforms of local
military servicemen, including
their medals, dog tags, and even
several telegrams that notified
family members of a
soldier's death in combat.
Virtually every war is represented
at the museum, according to
Commander Glen J. Flora,
who helped open the museum
roughly seven years ago.

Flora, along with several
military veterans also provide
school kids with museum tours
and lectures several times
a month.

"What's better than teaching
(the kids) their history --
why they're free,"
he said of the collection.
"There were a lot of veterans
that were really heroes here.
There were pilots that went down
in World War II."
One of those men is,
Herman Shanker, 97,
of Bayonne, who served
as a bomber pilot
in World War II.

Drafted on June 18, 1943 --
his birthday -- Shanker speaks
to students about his service,
including getting shot down
while flying missions
during the war.

"I flew 27 missions,
I got shot down twice,"
Shanker said. "Once over
New Guinea, once over
the ocean."
"We floated around for
three hours in the water."